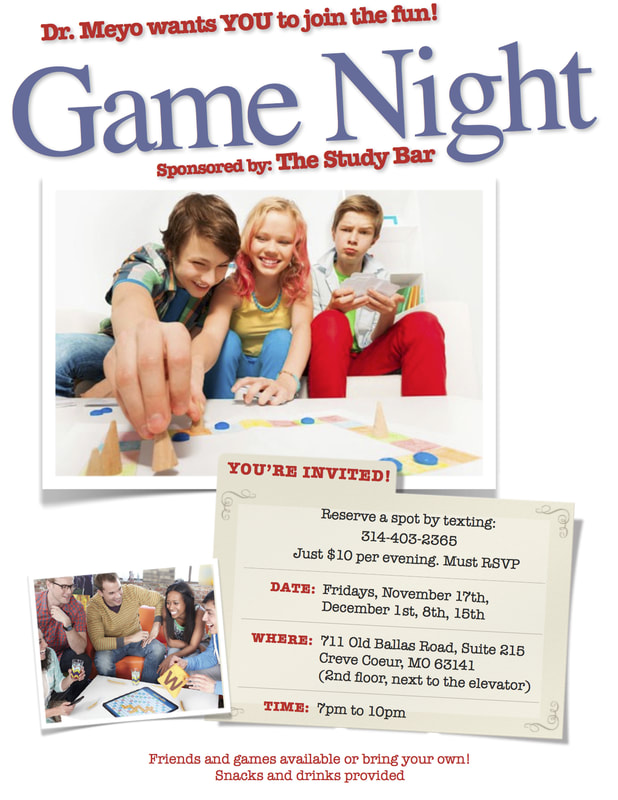 ---


Parent Support Group
Monthly meetings are available offering support for parents of gifted children with learning challenges.
Dr. Agnes Meyo
, Licensed Psychologist Gifted Children and Adults
Kathy Gavin
, MA Ed. Private Tutor/Advocate for Unique Learners
NEW LOCATION:
Kirk Day School, 12928 Ladue Road, St. Louis, MO 63141; 7:00-8:30pm
NO GROUP IN AUGUST
Please join us in September.
​
#1: Achieving Academic Success!
Thursday, September 7, 2017

#2: Managing Frustartion
Thursday, October 5, 2017

#3: Understanding Learning Disabilities & Dyslexia
Thursday, November 2, 2017

#4: Birth Order in Gifted Families
Thursday, December 7, 2017

#5: Enhancing Your Child's Stem Talents
Thursday, January 4, 2018





#6: Gifted Resources

Thursday, February 1, 2018

#7: The Art of Ignoring, and other Successful Parenting Strategies

Thursday, March 1, 2018

#8: Gifted Panel Discussion

Thursday, April 5, 2018

#9:

Making and Keeping Friends

Thursday, May 3, 2018

#10: Understanding Your Child's Academic Performance

Thursday, June 7, 2018

#11:

Supporting Your Gifted Child Through
Grief and Loss

Thursday, July 5, 20178
Want to be added to our Parent Support Group email list?
Contact Mark Tapia: parentsteamtogether@gmail.com.
Questions? Contact Kathy Gavin,
kbgavin@gmail.com
or call Celeste at 314-780-3621.
---
Science, Technology, Engineering and Math
(STEM) Resources

​Laura Roth, a marketing professional, became a STEM supporter and facilitator in the course of raising her 3 gifted children. Lots of camps, classes and competitions! With over 12 years of volunteering with the FIRST robotics programs, she has shared her passion with many families. We thought her wide variety of experiences made her an expert for our discussion tonight.


Summer Opportunities Fair

www.summeropportunitiesfair.org

where to find summer camp info, 1/30/16, 10 am - 3 pm

Gifted Resource Council

http://www.giftedresourcecouncil.org

learning labs and summer academies, next session starts 2/6

FIRST LEGO League Jr.

www.firstinspires.org

www.stlfirst.org

Grades K-3 pre-robotics




FIRST LEGO League

www.firstinspires.org

www.stlfirst.org

Grades 4-8 robotics




FIRST Tech Challenge

www.firstinspires.org

www.stlfirst.org

Grades 7-12 robotics




FIRST Robotics Competition

www.firstinspires.org

www.stlfirst.org

Grades 9-12 robotics




Project MEGSSS

www.megsss.org

advanced middle school math




Math Counts

https://www.mathcounts.org/


Science Olympiad

https://www.soinc.org/

www.moscioly.org

K-12




Science Bowl

http://science.energy.gov/wdts/nsb/

middle and high school, middle school deadline 1/15




Joseph Baldwin Academy

http://jba.truman.edu/

summer after 7, 8 and 9th




Missouri Scholars Academy

http://www.moscholars.org/

summer after 10th grade




NASA

http://www.nasa.gov/audience/forstudents/current-opps-index.html

K- college




STARS (Students and Teachers As Research Scientists)

www.umsl.edu/~sep/STARS/

summer after 11th grade




idTech Camps @ Wash U

https://www.idtech.com/locations/missouri-summer-camps/st-louis/id-tech-washington-university/

ages 7-17




Junior Academy of Science

https://www.academyofsciencestl.org/academy-programs/junior-academy-of-science/

middle and high school




Expanding Your Horizons

http://www.eyhn.org/

girls, grades 7-10, SLU event reg. deadline 1/15




eGFI

http://www.egfi-k12.org/

K-12 engineering discovery




Natl Center for Women in Information Technology

https://www.ncwit.org/

girls only, programs and scholarships




St. Louis Science Center

http://www.slsc.org/

camps, Family Med School, Teen Science Café




Digi Girlz

https://www.microsoft.com/en-us/diversity/programs/digigirlz

summer camp




Engineer Girl Annual Essay Contest

http://www.engineergirl.org/GetThere/Contest/2016Contest/2016Rules.aspx

boys and girls, grades 3-12, 2/1/16 entry deadline




Society of Women Engineers Next

http://societyofwomenengineers.swe.org/swenext

student membership at age 13




Boy Scouts STEM and NOVA

http://stem.stlbsa.org/

boys (6-20) and girls (age 14-20)




Girl Scouts of Eastern Missouri http://www.girlscoutsem.org/Girls-Families/Programs/STEM.aspx girls ages 6-18




Science Fair

https://www.sciencefairstl.org/

grades K-12




US Chess

https://new.uschess.org/home/


St Louis Chess Club http://saintlouischessclub.org/




Hour of Code

https://hourofcode.com/us